About
Fotostars is a free online photo editor that combines the most essential and convenient photo-editing functions.

Fotostars comes with slick, professional filters, easy-to-use retouching for flawless selfies, color and sharpness correction, clipping, and detail processing.

Fotostars is an instant photoshop where you can touch up and post your most vivid moments!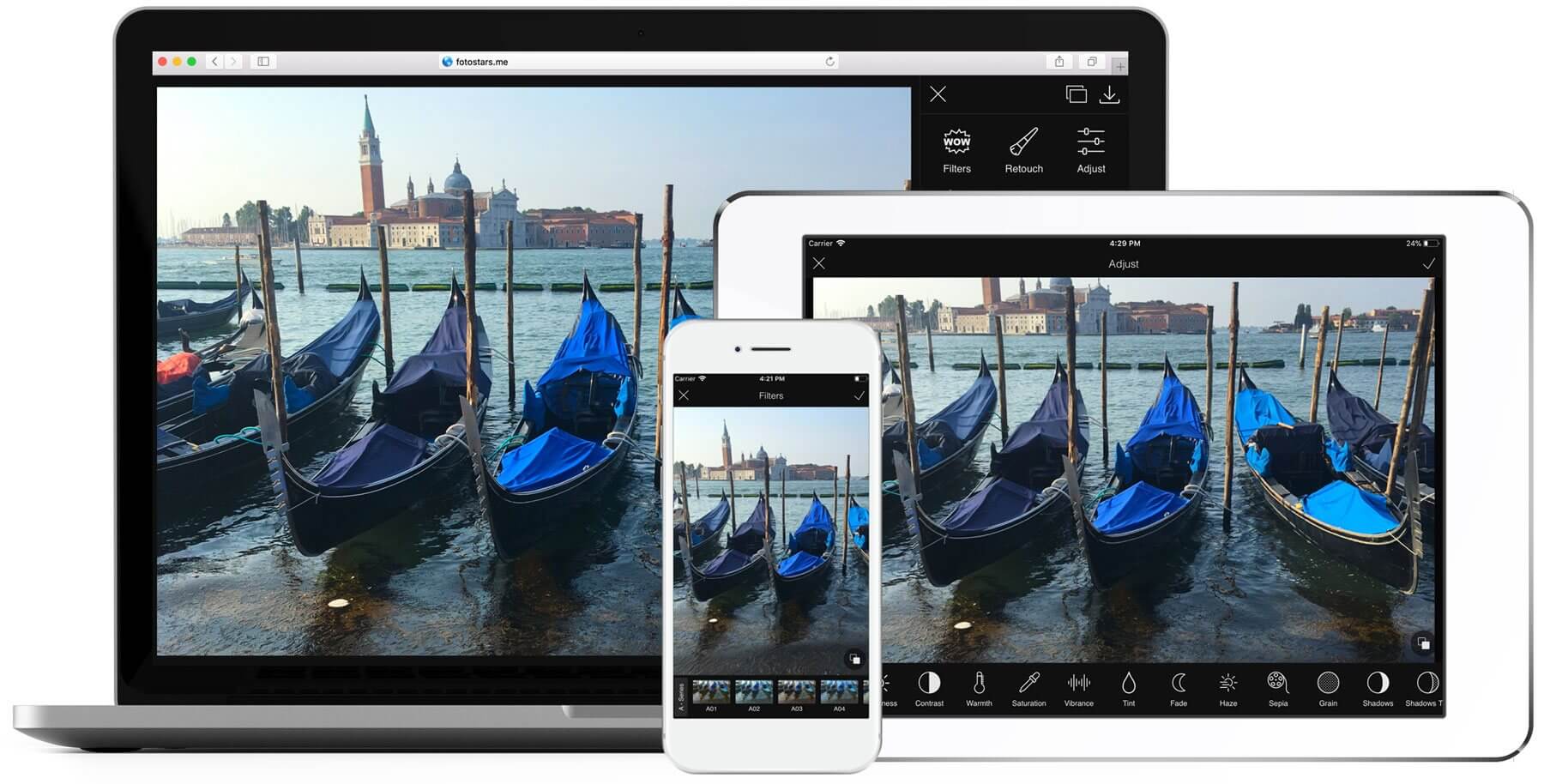 Features
Photo effects The Fotostars online photo editor includes over 50 professional photo effects and filters.
Adjustment Fifteen excellent color correction tools will help you get the best results without using Photoshop
Text Quickly and easily add text to photos and choose the styles you like.
Frames The Fotostars online photo editor contains over 30 elegant frames that can transform your photo into a masterpiece.
Retouching Get rid of skin imperfections, make your gaze more expressive, and give yourself a brilliantly white smile using simple tools.
Details Using the Fotostars online photo editor you can easily focus on the most important details.
Tools The entire tool set is always at your fingertips, including leveling, reflection, rotation, resizing, etc.
Security The Fotostars photo editor guarantees the complete privacy of all processed images.
Why?
Let emotions last
Photography helps us make the memories last, capture the emotions and retain the feel of the most important moments of our lives. With Fotostars photo editing tool you will instantly be able to enhance your images and make those memories brighter and more memorable.
Be creative
Photography is an art, but you do not need to have years of professional image editing experience or an expensive camera to create or capture a great image. With a photo editing tool, everyone is able to become a master of photography.
Share impressions
A picture is worth a thousand of words. Photo will allow you to share moments of joy and memories with others. Fotostars' unique image editing tools will allow you to enhance your photos to reflect the true emotions!