About
Fotostars is a free and simple to use photo editing tool that will allow you to adjust the feel and the look of an image with an array of stylish filters and effects. With our intuitive and easy to use online service you will be able to change and enhance any image within a matter of seconds.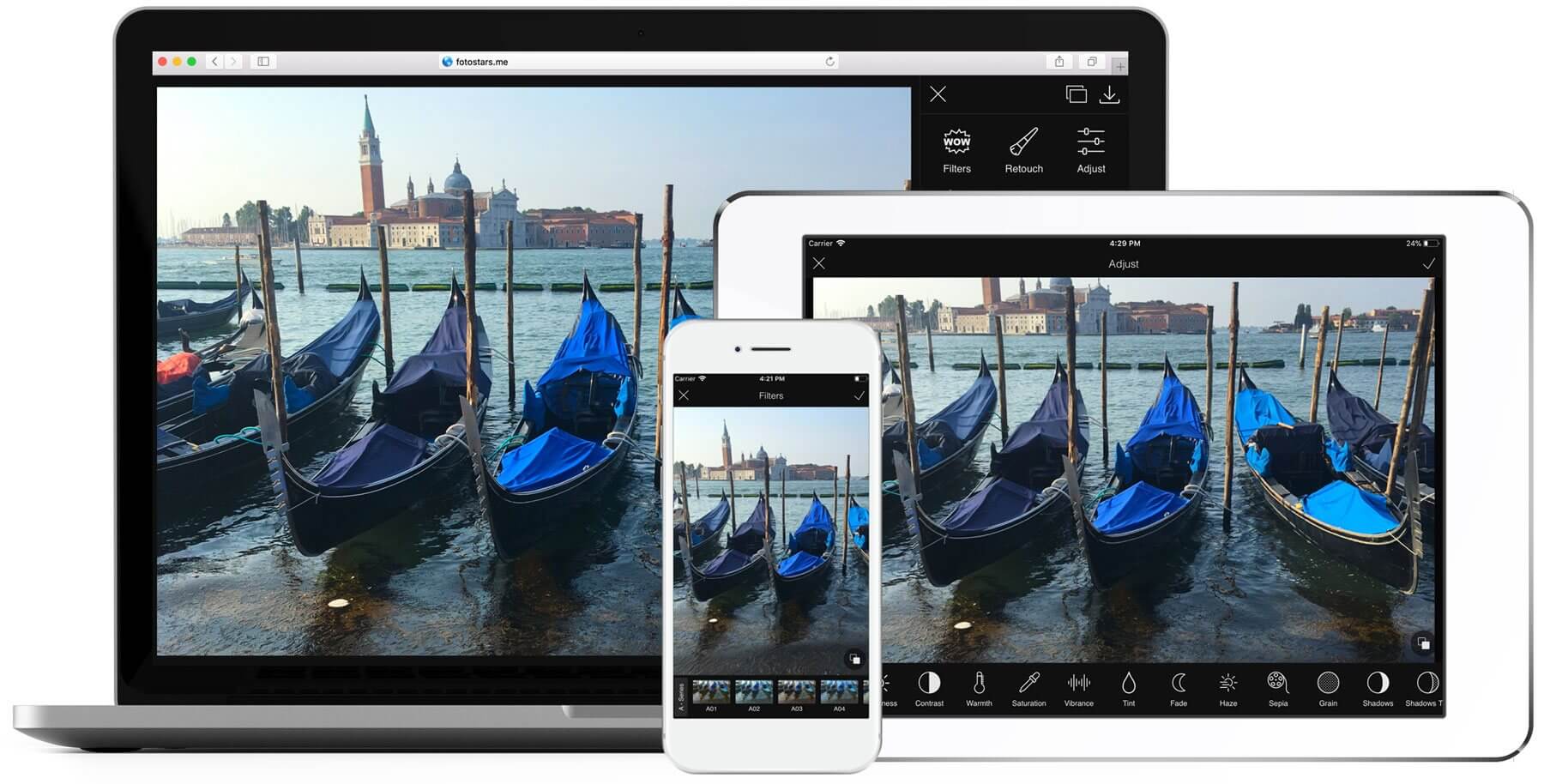 Features
Effects Fotostars is a free online photo editor that includes over 50 photo effects that will add a unique style and character to every one of your photographs. To use the online photo effects, just choose the effect you like from the list. You will see results and your photo's transformation right away.
Constructor To make your photos more unique, Fotostars offers a wide selection of additional functions for editing photographs: color grading, desaturation, image noise, shadow correction, sepia transformation and etc.
Text Fotostars is not just an online photo editor, letting you apply photo effects that you like in mere seconds, but is also a convenient tool for creating memos, demotivators and photos in Polaroid style. In just a few seconds, you can add any text to your photos using one of the six available formatting styles.
Frames In the Fotostars online photo editor, many effects have individual photo frames, which indisputably make your photos original, vivid and elegant. However, sometimes there are cases when a photo frame needs to be used separately or in combination with another effect. Fotostars lets you do this quickly and easily: simply choose any of over ten available frames.
Tools Everyone knows that a photo can be edited not only with photo effects, but also by using simple transformations, such as rotation or reflection. Fotostars lets you easily use these functions. You can also quickly crop photos and add a blurring effect, shifting the focus to the most important details.
Security Fotostars photo editor cares about its users' security. Therefore, all of the editing is done in the browser. There is no need to send photos to a server, which significantly speeds up the photo editing process and guarantees full security for those who are editing private photos.
Why?
Let emotions last
Photography helps us make the memories last, capture the emotions and retain the feel of the most important moments of our lives. With Fotostars photo editing tool you will instantly be able to enhance your images and make those memories brighter and more memorable.
Be creative
Photography is an art, but you do not need to have years of professional image editing experience or an expensive camera to create or capture a great image. With a photo editing tool, everyone is able to become a master of photography.
Share impressions
A picture is worth a thousand of words. Photo will allow you to share moments of joy and memories with others. Fotostars' unique image editing tools will allow you to enhance your photos to reflect the true emotions!